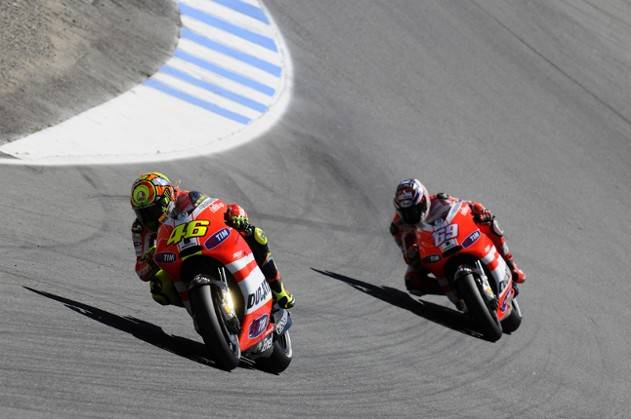 Tidak bisa diingkari prestasi Rossi jauh jika dibandingkan dengan Stoner kala masih diDucati 2010. Podium satu kali, itupun hanya karena keberuntungan belaka. Tapi tahu nggak mzbro…jebule kontrasnya performa The Doctor tidak selamanya akibat memblenya doi dalam mengendarai Desmosedici….
Finish 30 detik dibelakang Stoner, merupakan bukti kuat bahwa Ducati kudu berbenah total. Sebab dengan hitungan kasar, diLaguna Seca? perlapnya…torehan waktu Rossi nyaris 1 detik lebih lambat dari pembalap terdepan Honda. Wisss…jan jebluk tenan!!. Penyakitnya sama…yakni kurang cengkraman ban depan…
"We have problems with the front, especially when the bike leans heavily, but we need bigger modifications to solve them: we'll see how long that takes," Rossi was quoted as saying by Gazzetta dello Sport.

"Following the Hondas and the Yamahas, you realise the difference is quite big: each turn they manage to get on the gas a bit earlier than we do so, by the end of the lap, the gap gets quite big.

"We've found a good set-up here, but we must do more: the objective is to be quicker and make the Desmosedici easier to ride for everyone.

"We've brought back home what we could, but we had hope to be quicker. We've scored 108 points: the objective is to reach 200 in the second half of the season."
Rossi mengatakan bahwa ban depan masih kurang grip khususnya jika motor digunakan untuk melakukan kemiringan ekstrim. Inilah yang membedakan dengan Yamaha dan Honda. Bisa ditebak…gara-gara penyakit tersebut para pembalap Ducati selalu kalah start membuka gas pasca melahap tikungan. Setiap lap seperti itu…..tentu sampai garis finis jarak dengan kompetitor sangat besar. Target untuk mengoleksi 200poin dipertengahan musim telah gagal (Rossi hanya mengantongi 108poin). Tapi keinginan Rossi untuk membangun Desmosedici supaya lebih kencang dan gampang dikendarai tidak pernah padam…dan itulah tujuan utama mereka saat ini.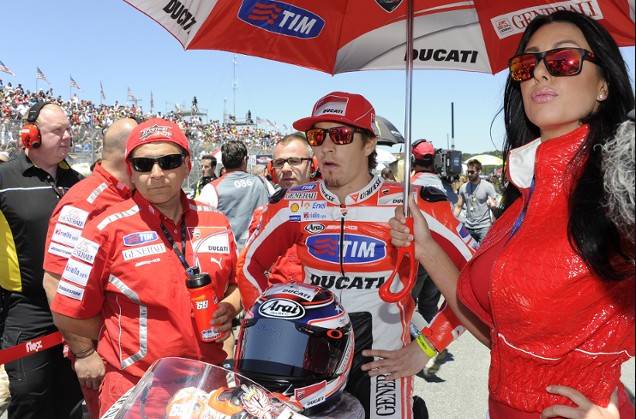 Apakah memblenya Rossi akibat ketidak mampuan doi dalam beradaptasi dengan Ducati??. Ternyata tidak juga mzbro. Diungkapkan oleh Vittoriano Guareschi…Ducati team manager bahwa motor merekalah yang bermasalah. Ban Bridgestone 2011 mempunyai karakter berbeda dibanding tahun kemarin. Terbukti dengan motor yang sama dan setingan identik pula di2010, tidak bisa bekerja sebagaimana mestinya diLaguna Seca 2011. Itulah yang dialami Nicky Hayden…..
"We are unable to understand what's different compared to before. The riders feel loss of front grip and slide sideways at turn entry, and this seems even stranger considering that Nicky has the same set-up as last year. It doesn't add up, but the reality is that our bike slides sideways without warning.

? "Our bike is like handling an eel: you grab it from one side, but it slips away from the other side. The Desmosedici doesn't turn, and if it does it's not in a normal manner," Guareschi told Motosprint.

"On our bike the front Bridgestone tyres works differently compared to the other bikes, and our riders lack feeling.

"I don't know what they have done, or what has happened, but this year's Bridgestones have certainly changed compared to 2010: they are even harder, making it difficult for our bike.

"All our riders crash this way. The tyre doesn't warn them when it lets them down."

He said the GP11.1 was not improving the situation, but rather making it worse.

"No, in fact the problem is even worse. You struggle even more to find the balance. Now, however, Jeremy (Burgess) is back, and we are using again his working method that has brought so much success for Valentino.

"We suffered his absence in the two races he missed. Now we are trying to organise the second half of the season in a better way."…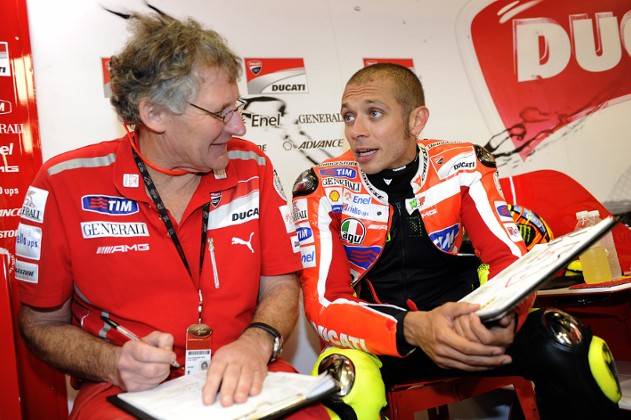 Menurut Vittoriano Guareschi mereka tidak mengerti apa yang telah dilakukan? Bridgestone terhadap ban 2011. Ducati saat ini jadi susah dikendarai…bisa diibaratkan belut yang licin.? Diambil dari satu sisi…sudah dapat, lari kesisi lainnya. Gejala tidak normal inilah yang membuat motor susah dibelokkan. Tahun ini….karakter ban Bridgestone benar-benar berubah dibanding 2010….
Yup…para engineering Desmo masih puyeng mzbro. Mungkin inilah yang membuat kerja Rossi makin berat. Sudah harus adaptasi riding style…eee malah dikasih PR untuk membuat klop Ducati? dengan ban Bridgestone 2011. Ya ancur minah
……(iwb)